Have you heard of this Canadian treat? It's a delicious no-bake dessert named for the city of Nanaimo in British Columbia. This was the first new dessert recipe I tried after we got married, and Caleb liked them so much he asked me to make them again a couple weeks later. It's a perfect dessert to make for a dinner party if your oven is tied up all day. Apparently there are multiple varieties of the Nanaimo bar, but I have only made this traditional one. I've not been tempted to venture out to the lesser kinds because these are just that good.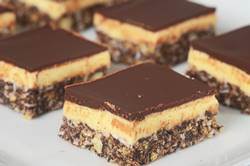 the perfect Nanaimo bar
Nanaimo Bars
Bottom Layer:
1/2 cup unsalted butter
1/4 cup sugar
1/3 cup unsweetened cocoa
1 egg, beaten
1 tsp pure vanilla extract
2 cups graham cracker crumbs
1 cup coconut
1/2 cup pecans, coarsely chopped (optional - both ways is good, I think I prefer with)
In saucepan over low heat, melt butter. Stir in sugar and cocoa; gradually whisk in beaten egg. Cook, stirring constantly until mixture thickens. Remove from heat and stir in vanilla, graham cracker crumbs, coconut, and chopped pecans. Make sure mixture is combined well and all the graham cracker crumbs have been coated with the chocolate. Press mixture into bottom of greased 9x9 pan. Cover and refrigerate until firm (at least 1 hour).
Middle Layer:
1/4 cup unsalted butter, softened
2-3 Tbsp milk
2 Tbsp vanilla pudding powder (leftover from the
Fudge Brownies with Peanut Butter
)
1/2 tsp pure vanilla extract
2 cups powdered sugar
Beat butter until smooth and creamy. Add remaining ingredients and beat until smooth. If too thick to spread, add a little bit of milk to get the right consistency. Spread over bottom layer. Cover and refrigerate until firm (at least 1 hour).
Top Layer:
4 oz semisweet chocolate, chopped, in chips, or in chunks
1 Tbsp unsalted butter
Melt together using your preferred method of melting chocolate. I usually go with the microwave at 50% power, stirring every 15 seconds. However, yesterday it failed me. I don't know what happened but my chocolate was not smooth and silky like it should be. Hopefully you are better at melting chocolate than I, so you should be able to just pour/spread the melted chocolate mixture over the filling. Cover and refrigerate until set. Store in fridge.
my ugliest Nanaimo bar yet. At least ugly still tastes good!